The Beirut Marathon Association provides a great platform through its running events to raise money for various causes. Whether you are an individual, a corporate or an organization, BMA events are an ideal way to improve lives and have a positive impact on our society!

You can raise money for admirable causes, put an underprivileged kid in school, buy a wheelchair for a person who needs it; the possibilities are endless!!
BECOME A PARTNER ORGANIZATION
---
The Beirut Marathon Association is an opportunity for organizations to fundraise for their important causes.
Steps to becoming a partner with BMA:
A copy of the official NGO registration number
A filled-out and signed Memorandum Of Understanding
A high resolution logo of the NGO
A 4 to 5 lines about its activities and message
A link to your Facebook page or website
Send the above by email to francoise.nehme@beirutmarathon.org. We will then get in touch with you and finalize the process for you to become a formal partner NGO and benefit from registration fees discounts.
Pitch the goal of your NGO to as many people as you can, using your social media outlets
Register the runners under the NGO credentials on our website
Benefit from the percentage allocated to NGOs
Kindly note that, the BMA registration system is designed so that every time an individual registers for the "RUN FOR A CAUSE", they will be asked to choose the NGO they want to donate to.
GET A RUNNER TO ADOPT YOUR CAUSE AND COLLECT DONATIONS FOR YOU
Contact runners and ask them to pledge to your cause
The runner would then promote his/her daily activities and trainings as a means of encouraging people to donate
On race day the runner would then participate, representing the NGO
The NGO is advised to keep their social media on the daily activity of the runner in order to connect their donors to the runner and the cause
How to use social media?
Create your pledging page (Facebook, Twitter) stating the cause the runner is pledging for.
Share it with your contacts and ask them to share it with theirs
Add photos, videos, Twitter feeds and keep it updated
All your friends, contacts and supporters can then support you with donations that would go to serve the cause you are running for and leave you messages of sympathy and appreciation
The Beirut Marathon Association offers a wide range of races, each to suit a certain type of physical ability. A percentage of each registration fee is donated to an NGO chosen by the registrants, how?
Utilize social media and public events to get the public interested and excited for your cause.
Create a program and get people to donate for a chance to implement the program using one of the available crowd funding platforms.
GAIN EXPOSURE AT THE START OR FINISH LINE
These are 3X3 or 5X5 tents provided by us for a special NGO price located either in the gathering area at the start line or the post-finish area at the finish line. You can brand this tent and use it as a gathering.
CHEER YOUR RUNNERS AND GAIN EXPOSURE ON THE COURSE
A cheering station is a space allocated to you on the course where you can display anything related to your NGO / entity and can include banners, music, or anything of the like. It is the perfect way to gain exposure and encourage the participants that are running for your cause!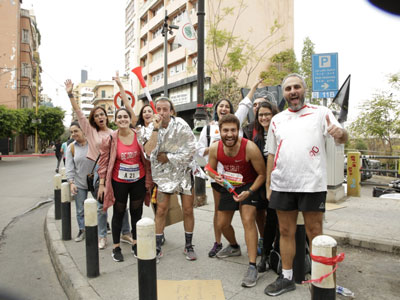 QUENCH THE THIRST AND GAIN EXPOSURE ON THE COURSE
A water station is located every 2.5km on the course it requests around 20 people from your side to hand out water bottles to runners. We provide you with the tables, chairs, and items. You handle the distribution! You are free to decorate the station as you see fit, as long as it doesn't delay the runners!